WEBMASTER NOTE:Prostate enlargement is often an unpleasant subject, but one that should be taken seriously by men of all ages. Since prostate enlargement is virtually inevitable, it doesn't pay to be passive and just wait for the symptoms to appear or become worse. Take an active role and help prevent prostate problems by utilizing the body's natural healing powers. The new Super Prostate Formula™ is a combination of natural nutrients, which can help keep the prostate healthy and help you to live a life full of vitality and vigor. Read on to find how to help your prostate stay healthy and reduce the painful symptoms of prostate enlargement!
The Super Prostate Formula™ - Now with Beta Sitosterol!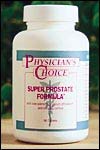 The Super Prostate Formula™ combines a number of natural substances, including Beta Sitosterol and Lycopene, that are known to improve the health of the prostate gland and even decrease its size.
Beta Sitosterol has been found to be the most powerful nutritional supplement for prostate health. According to a documented study performed by Dr. Berges in Germany, 200 men with BPH who used Beta Sitosterol showed "significant improvement in symptoms and urinary flow."
Lycopene has a profound effect as an antioxidant. It is a carotenoid found in tomatoes shown to be twice as effective as Beta Carotene and 100 times more effective than vitamin E in counteracting harmful free radicals that cause cancer. Lycopene has been shown to be effective in preventing prostate cancer in men in several medical studies. Normally, the level of Lycopene is the highest of all the carotenoids present in the prostate gland, which may be the reason for its anti-prostate cancer capabilities.
Zinc is probably the single most important nutrient for a healthy prostate. The normal prostate gland contains more Zinc than any other organ. Zinc deficiency has been shown to cause enlargement of the prostate.
Amino Acids glycine, alanine and glutamic acid have been shown in a medical study to decrease night time urination, urgency and frequency by 95%.
Saw Palmetto has been shown in studies of BPH to have significant benefits. It not only makes the prostate function better, there is an actual decrease in size in over 60% of patients. Saw Palmetto is also regarded by many herbalists as a mild aphrodisiac.
Pygeum Africanum has been used to treat BPH in Europe since the 1980s. About 80 percent of the prescriptions for BPH in France are for this herb. Studies show that over 70% of patients experience a reduction of the size of the prostate gland when using Pygeum Africanum.
Stinging Nettles, a common herb, improves BPH when it is combined with Pygeum Africanum.
Vitamin B6 is useful because it enhances the absorption of Zinc. It also inhibits excessive production of Prolactin.
Essential fatty acids (such as those found in flaxseed oil), Pumpkin Seed concentrate, Ginseng and PABA (Para-Amino-Benzoic Acid) are some of the other nutritional supplements that have been shown to be beneficial in BPH.
Complete Ingredient List

Click on link above to move to Main Secure Site for more information and for ordering! Also , you can find out about receiving FREE products and FREE 30-day Trial Offer!
---
OTHER RESOURCES:
Is the size of your prostate abnormal?
Super Green Multi™ - High Potency Multi-Vitamin/Multi-mineral Formula

This is a great supplement to take every day!




Back to 50+ Health Portal