3 Steps to Great Skin!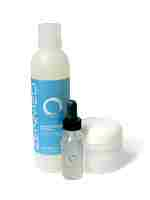 Protect, nurture and cleanse with our amazing three step skin care system. This refreshing, sensual experience will keep your skin healthy and youthful. Wake up each morning to the gentle nutrients of our revitalizing cleanser and then tone and protect your skin with a touch of our soothing H-Series Moisturizer. Even out skin tone and re-energize the look and feel of your skin with our age defying Renewing Serum. It's time to awaken your skin, and reveal your true youth and radiance!
| | | |
| --- | --- | --- |
| (1)Cleanse | (2)Exfoliate | (3)Emoliate (Moisturize) |
---
Learn about each of the 3 products...

Step (1) Cleanse

Derma Cleanse Gentle Cleansing Gel removes debris, impurities and excess sebum and imparts a clean refreshed sensation to your face. Soothing and moisturizing botanical extracts leave skin feeling soft and smooth. Gentle Cleansing Gel has an optimal pH of 5.5 that supports the natural protective acid mantle of skin and limits the growth of causative organisms of acne, including Propionibacterium acnes.

INGREDIENTS

Cautions and Contraindications:
No side effects or contraindications. Non-irritant to the skin. Not to be taken internally. Not tested on animals.

Application:
Massage Cleansing Gel over entire face and neck with small, circular motions. Leave on for one to two minutes and rinse off. May be used morning and night.
Step (2) Exfoliate

Derma Cleanse MicroPeel contains gentle fruit-derived alpha-hydroxy acids (AHA's), an exciting new development in natural skin care that provides excellent exfoliating, stimulating and cell-renewal properties. AHA's gently remove the outermost layer of the epidermis that can give skin a dull, rough appearance, revealing a smoother, brighter complexion beneath. Reduces fine lines and wrinkles, improves texture, softens and smoothes - leaves your skin fresh and glowing! Excellent for acne and problem skin as it stimulates regeneration of healthy new cells and helps speed healing.

Ingredients

Directions for Use:
1. Check for any abnormal reactions by applying a drop of Micro-Peel to a small test area of skin and
observing effects for 10 minutes.

Normal reactions include light tingling and/or uniform rosiness.
Abnormal reactions include sudden spotted localised redness with or without bluish tinge, and/or very intense tingling.

If any abnormal response is experienced, remove Micro-Peel by rinsing test area with fresh water for 5 minutes. Discontinue use of product.

2. With your fingertip, apply a thin layer of Micro-Peel over entire face and neck.
Important: Avoid application on eyelids and lips. Avoid contact with eyes.

3. Leave on for 10 - 15 minutes and then rinse off with damp sponge.
Apply 2 - 3 times weekly. Avoid intense sun exposure for 48 hours afterwards.

Cautions and Contraindications:

Hypokeratinized (thin) skin
Edema (swelling)
Warm redness
Irritated or hypersensitive skin
Dermatologic procedures including dermabrasion, chemical peeling and retinoic acid treatment.
Not to be taken internally. Not tested on animals. For more
Step (3) Emoliate (Moisturize)

The ZENMED Homeopathic Moisturizer, an all-natural elixir punctuates your skin's miraculous return by moisturizing, protecting and maintaining its new balance. Made from essential herbs and unrefined plant essences, the Homeopathic Moisturizer perfects the healing treatment and promotes the skin you were born to have. It is non-comedogenic, hypoallergenic, and like all ZenMed products, contains nothing but the finest all-natural ingredients Mother Earth has to offer. ZENMED - Beautiful skin by Nature..

Ingredients

Homeopathic medicines are prescribed according to the Law of Similars. This law states that substances that can make you ill can also cure. The ingredients contained inside work synergistically to nourish the skin with a healthy pH level optimal for healthy skin free of dryness or irritation.

Cautions and Contraindications:
No side effects or contraindications. Non-irritant to the skin. Not to be taken internally. Not tested on animals.

Application:
Massage moisturizer over entire face and neck with small, circular motions. May be used morning and night.
---
NOTE: Give your skin a drink. Those eight glasses of water a day your mom always told you to be sure to drink are essential to maintaining your skin's elasticity and suppleness, say experts. Of course, drinking tap water is usually a little like drinking poision. If you care about the quality of your water, use a good water filtration system like Aquasana and don't count coffee or any of the caffeinated sodas as part of the eight glasses because caffeine is dehydrating.
RESOURCES:
NEW!ZENMED Body Acne Combo
Great addition to the acne system above.
Summertime Skin Care Tips from the American Academy of Dermatology
Problem Skin? - Derma Cleanse Acne or Rosacea Program may be for you!
All About Acne | Cellex-C Fade Away Gel for Sun and Age Spots
| Prime Naturals Skincare | Cold Sore Remedy - Simplex Solutions
---
Skin Solver...Professional online Support!
Skin care designed especially for you = better results!
100% FREE SERVICE: Results will be emailed to you within 24-48 hours!
The most common skin type is a combination. It only makes sense that some people will need a combination skin care approach. Our specialists will carefully analyze your answers to a skincare questionnaire and reply with a custom built daytime, nighttime and reconstructive therapy system. It is that easy! Just click on the link below and you will find the skin care approach that is perfect for you!: