Do you have skin problems?

Looking for an acne treatment that actually works? Unlike many "cures" we do not treat acne as just a skin problem, we also treat it from where it actually starts, the inside. For fast, lasing results try the Derma Cleanse System. Treats acne inside and out! You don't have to suffer from adult acne, teen acne, menopausal acne any longer. - Derma Cleanse is 100% Guaranteed or we will give you your money back! #1 Pick!

Derma Cleanse Complete Acne System

Related Articles:
Acne in Pregnancy
Most Common Acne Myths
Acne Dietary Guidelines
What Causes Acne? Stress and Acne.
What You Can Do To Keep Acne Away

This revolutionary skin care system prevents and treats acne both internally and topically. In three easy steps, our truly advanced delivery system will clean, detoxify, and tone your skin. These products treat acne as a complex biomedical disorder. Unlike other products, this system attacks acne from all angles and has helped thousands to naturally conquer this debilitating disorder.

Step 1 Derma Cleanse - With any skin condition it is imperative that we treat the internal imbalance as well as addressing the external manifestation of that imbalance. Acne is a complex biomedical disorder with the root of the disorder being multifactorial. Derma Cleanse is a synergistic blend of botanicals that address these factors with the action to:

~ Traditionally eliminate toxicity from the system
~ Reduce swelling and inflammation of skin tissue
~ Normalize hormonal balance and the endocrine system
~ Restore and rejuvenate damaged skin tissue
~ Soothes and relax the nervous system

Step 2 Derma Cleanse Washing Gel - ZENMED Gentle Cleansing Gel removes debris, impurities and excess sebum to impart a clean, refreshed sensation to your face. Soothing and moisturizing botanical extracts provide anti-inflammatory relief and leave skin feeling soft and smooth. Gentle Cleansing Gel has an optimal pH of 5.5 that supports the natural protective acid mantle of skin and limits the growth of causative organisms of acne, including Propionibacterium acnes. Ingredients: Water, Vegetable Glycerin, Extracts of Calendula and Rosa canina, Hydrolyzed Yeast Protein, Pentylene Glycol, Caprylic Triglyceride, Cetearyl Alcohol, Decyl Oleate, Laureth-23, Panthenol (pro-vitamin B5), Sodium Cetaryl Sulfate, PEG-40 Stearate, Sodium Citrate, Carbomer.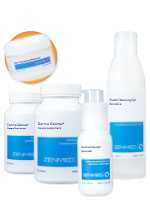 Step 3 Derma Cleanse Acne Gel - ZENMED Acne Gel contains pure extracts of naturally astringent and cooling herbs that simultaneously soothe the skin surface and penetrate it with nutrients. Provides anti-bacterial activity against Propionibacterium acnes and other causative organisms of acne, and helps normalize sebum secretion to avoid follicular plugging, and aggravating factor of acne. Modulates the inflammatory response to reduce redness, swelling and scarring. Formulated in a unique, transdermal delivery system that provides optimal absorption of nutrients, ZENMED Acne Gel quickly penetrates into the deeper layers of the dermis where its regenerative action takes place. Note: the concept was developed in Germany , the formulation, production, bottling and labeling is all done in Canada by ZENMED. Ingredients: Water, Aloe Vera Gel, Arnica, Fumaria, Tea Tree Oil, Rose Hip Oil, Vitamins A and E, Sorbin Acid (Natural Preservative).






f you have any kind of acne, even very severe acne, there is nothing you will find that works better to clear your complexion and skin problems than our revolutionary Acne Therapy System! What makes Zenmed Acne Therapy the best! FREE SHIPPING! If for any reason you are not completely satisfied with your ZENMED order, you may return your product(s) within 60 days of purchase and receive a full 100% refund of the price, excluding shipping and handling, GUARANTEED*.

Before you take prescription medication please read the following: The most commonly prescribed medication for acne is Accutane. Although you may notice short term results, if you have ever taken Accutane you will notice that it can make you feel ill. Even more disturbing is that the FDA warns that Accutane may cause depression, liver damage and birth defects, along with a long list of other possible side effects. Patients of this chemical prescription must be under a dermatologist?s supervision for the 5-month course of treatment. You will be pleased to know that our all-natural Derma Cleanse System has absolutely no side effects and is actually healthy for your body. As well, you do not need a prescription or a dermatologist's supervision - you can simply order your system now in the privacy of your own home. Best of all, it works!

En Espanol:
Introduciendo el Nuevo Body Acne Combo ~ Sistema de Tratamiento de Acne' Natural