Virexin is a powerful homeopathic medicinal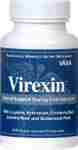 combining plant extracts, amino acids, vitamins and more to give the body optimal nutritional support. The ingredients in this MultiDimensional formula support the body's abilities to naturally:
Help activate the body's Immune System defenses against bacterial and viral infections
Help rid itself of deadly free ranging DNA-viral matter and accelerate recovery
Help alleviate the symptoms of colds and flu
Help restock those nutrients that often become depleted from prolonged illness
When fighting infection, the body needs extra help to not only to bolster the Immune System and eradicate invasive bacterial and viral entities, but also to alleviate associated symptoms and restock nutritional stores depleted due to illness...
Try Virexin Today RISK FREE with Växa's 30-Day MONEY BACK Guarantee!
---
---
What Is The Flu Prevention Pac?
Växa's Flu Prevention Pac is a Scientifically Advanced homeopathic medicinal strategy engineered to naturally support the function, and thereby the resistance, of the Immune System.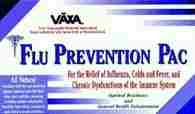 When the Immune System is weakened it is prone to common bacterial and viral infections, including influenza, colds, chronic fatigue, laryngitis, asthma and emphysema, as well as bacillary dysentery, toxic radiation and chemical poisoning (and the defective elimination of such poisons), vaccinal poisonings, herpes simplex & zoster (shingles), mononucleosis and lymphadenitis, anemia, typhoid and typhus fever, encephalitis, hepatitis, tuberculosis, pneumonia, septic blood and auto-infections, and subsequent diminution of the population of red blood cells. Växa's Flu Prevention Pac is formulated to provide nutritional support for the Immune System.

Each Flu Prevention Pac contains : 1 bottle each of Immune-Aid+ (60 caps), Virexin (60 caps) and Anti-Oxin+ (60 caps).
Try Flu Prevention Pac Today RISK FREE with Växa's 30-Day MONEY BACK Guarantee! - $69.95
---
---
New! AirSanitizer with UVC Germicidal Protection:
New! AirSanitizer with germ-killing UVC light protects your loved ones by neutralizing airborne bacteria and flu viruses! Full warranty!
Special Offer: 50% off your 2nd AirSanitizer! Purchase one at $299.95 and get a second one for 50% off! (limited to stock on hand.)
AirSanitizer™ features a powerful ultraviolet germicidal Sterilamp® to help reduce all kinds of bacteria and viruses that are dispersed into the air of an average-size room.
Motorized three-speed fan draws in contaminated air — up to 50 cubic feet per minute (cfm); sanitized air circulates out the top and back into the room.
Sterilamp® destroys the DNA of all kinds of microorganisms, including bacteria, mold spores and viruses.
Proven-effective UVC light kills by physical destruction of the DNA so germs cannot develop immunity to it; unlike antibacterial agents, no bacteria can become resistant to UVC.
Energy-efficient operation requires no more than 50 watts on the highest setting.
Asthma and Allergy Foundation of America® Consumer Product Seal
awarded to the Ionic Breeze® Quadra® and GP air purifiers.
TO ORDER, CLICK ON THIS BANNER:
---
---
OTHER RESOURCES:
Key Facts About Avian Influenza (Bird) Flu
Kills all Known Deadly Viruses and Bacteria
in the Body - The Ultimate Immune Support!