FDA Warning About Antidepressants and Suicide

Suggested Resource:
Help for Children with ADD

What is Depression? Holistic Health Tools spotlights depression, the issues surrounding it and the different treatment options and approaches available. With all of the latest controversies and studies regarding prescription antidepressants, Native Remedies wants to provide you with facts and relevant information to allow you to make the best, informed decisions for you and your family.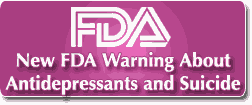 On July 1, 2005 the U.S. Food and Drug Administration issued a second warning that people taking antidepressant drugs be monitored for signs of suicidal thoughts and deepening depression. The new advisory follows concern about a link between antidepressant use and suicide among children. It also follows action taken in March 2004, when the FDA said there was a small, but real increased risk of suicidal behavior in adults and children taking these drugs It then ordered manufacturers to place a warning on the labels of all antidepressants detailing those heightened risks. Read more about the FDA Warning on Antidepressants


The use of antidepressant medications continues to grow by about 10% among children and adolescents, according to a study published in Psychiatric Services. Between 1998 and 2002, the antidepressant prescription rate rose about 10% annually, with preschoolers accounting for the steepest rise. The FDA determined there is a real, but small, increase in risk of suicidal behavior for children and ordered the labels of all antidepressants to say so. Antidepressant drugs have not shown evidence of a benefit when tested in children 6 to 18, but the drugs have been shown to pose severe risks of harm for some children and adults. Read more about the Risk of Antidepressants with Children

Depression Overview and Facts: Everyone will be significantly affected by depression - either their own or that of someone close to them- at some time in their life, according to government statistics. More people are turning to antidepressants for solutions, increasing prescriptions 350% between 1990 and 2000. Yet, as a recent News Corp. article from December 16, 2004 showed, pharmaceutical companies are increasingly coming under scrutiny for misleading statements both about the effectiveness and the safety of the most prescribed antidepressants, SSRIs, calling them a class of drug of dubious benefit that, through savvy marketing, has become a multi-million dollar cash cow. Read more about the Risk of Antidepressants with Children