Super CalMag™
Quick-Absorbing Calcium/Magnesium Powdered Drink!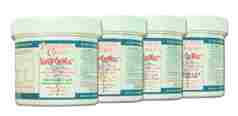 Do you suffer from tension, insomnia, muscle cramps, aches and pains, high blood pressure, diabetes, osteoporosis or PMS? You may be deficient in Calcium and Magnesium. Calcium can help keep your body healthy and strong and has even been clinically proven to improve the symptoms of PMS by up to 50%!

Magnesium is essential for Calcium absorption and plays a major role in proper nerve, heart and muscle function. Vitamins C and D are also necessary for proper Calcium absorption. Evidence suggests that Calcium with Vitamin D may help prevent, slow down and even reverse the painful effects of bone loss!

Calcium and Magnesium together have a calming effect. Even children with attention deficit disorder (ADD) and hyperactivity have been known to benefit from the naturally soothing combination of CalMag Super™. In fact, CalMag Super™ may be the best alternative to harsh drugs, such as Ritalin, whose long-term effects are unknown!

Most Calcium supplements are made of Calcium carbonate, otherwise known as chalk. Calcium citrate in Vitamin C appears to be better absorbed and more effective against osteoporosis.

Low levels of Vitamin D have been linked to arthritis and multiple sclerosis.

Now it's easy to get the Calcium and Magnesium you need in a tasty mineral drink! CalMag Super™ is an effervescent powder that you can mix with pure water, hot or cold, to make a soothing hot drink or a cool, refreshing beverage. You can even add an herbal tea bag, or mix it with juice for the kids!

CalMag Super™ is gentle, effective and scientifically designed to support enhanced absorption of both Calcium and Magnesium. CalMag Super™ contains a 2:1 ratio of Calcium and Magnesium, plus Vitamins C and D to help ensure rapid, proper absorption. CalMag Super™ is also now available in FIVE delicious flavors: Lemon-Lime, Orange, Tropical Fruit Punch, Grape and NEW Flavorless! The new FLAVORLESS CalMag Super™ provides just as much Calcium, Magnesium, Vitamin C and Vitamin D as the original fruit flavors, but is undetectable in your favorite fruit juice or tea and has no aftertaste! Try it today!

Special Offer!

When you order two bottles of CalMag Super™ you will get two more bottles absolutely FREE! That's a 50% savings! Help protect yourself from bone loss with the soothing strength of CalMag Super™!

CalMag Super™ Plus

Higher Calcium & Magnesium Potency for Extra Nutritional Support!



---
About Osteoporosis and What You can Do
Valentra for Women
First all natural enhancement cream for women.

Vital XL for Men
100% natural, guaranteed to work!

SnoreMD.com (Long Life, Inc)
---
Back to 50+ Health Portal