The Organic Wheatgrass Kit
Our mission is to provide you with Nature's most perfect living foods and kits to grow them at home. Our fresh products include wheat grass, barley grass, sprouts, and fresh cooking herbs.

Our goal is to give you nature's full range of nutrients from delicious living food.



5 Wheat grass Growing Trays

Organic Soil- Why Soil?

Azomite (A to Z mineral)

Wheatgrass Book ( 262 pgs.)

Instructions and support

Yields 60-70 oz. of Juice!
---
Add on a Heavy Duty Stainless Steel Wheatgrass Juicer:


We Use Certified Organic Wheat in All Our Kits
Wheatgrass Kit + Juicer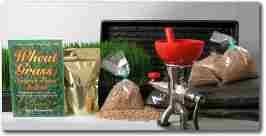 If you need a great starter kit with a juicer that will juice grasses, then the Wheatgrass Growing Kit w/ Juicer is everything you need to grow healthy thick-bladed wheatgrass. Perfect for growing grasses even in small kitchens or apartments. Each kit comes with simple easy to follow growing and harvesting instructions that will have you juicing healthy super-nutritious juice within ten days! To insure the highest possible mineral content and grass yield, we have included Organic Forrest Compost and Azomite, a natural mineral additive that insures that your grass contains all of the trace minerals required by the human body for maximum health. Shipping Weight Approx. 27 POUNDS!


ARTICLES:

What's So Great About Wheatgrass?
Wheatgrass for Runners!

Improve Your Vision - Naturally!




NOTE: All material provided in this site is for educational purposes only.