Pet Health Portal

Suggested Resource:
Natural Remedy for Ear Mites

Natural Pet Care Products and Information
Featured: Pet Alive Holistic Products Line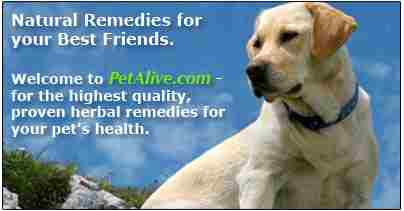 Parasite Dr. - Did you know that intestinal health in your pet plays a big role in whether they may be able to stay free of parasites? Natural pet care products like Parasite Dr. help to balance and integrity in the gut and supporting the natural cleansing and purifying mechanisms of the body. That goes a long way toward a healthier pet. Sometimes, pets need a little extra support in addition to their regular diet and exercise routines. Parasite Dr., a safe and natural supplement, helps maintain systemic balance for optimum health for cats and dogs.

Aggression Formula™ - This is an effective homeopathic medicine for dogs who bark, bite or scratch. If you have a pet exhibiting excessive barking, biting, and scratching, try the Agression Granules to promote calm behavior in pets. Use of this formula helps to promote more normal social behavior while naturally discouraging the impulse toward excessive barking, biting and scratching. The Agression Formula supports nervous system functioning for highly strung or stressed pets and helps to maintain a more relaxed state with pets during stressful situations.

Equine Horse Calm - I live on a farm with horses. They are magnificent creatures and wonderful friends. The specific health challenges of horses are different than with cats and dogs. Natural remedies such as Equine Horse Calm. may be helpful. Some horses are more easily spooked than others. If you have a nervous horse, try Equine Horse Calm - Homeopathic medicine for highly strung horses.

This is just a small amount of the overall product line at Pet Alive. You will find effective natural remedies, homeopathic remedies and herbal remedies for most common pet complaints. Homeopathic and herbal remedies for conditions including ringworm, appetite problems, pet incontinence, pets with allergies, overweight pets and more.



About Pet Health: Just like humans, domesticated animals like dogs and cats are affected by the health hazards of modern living. Pollution, poor nutrition, stress and unhealthy lifestyles can lead to a variety of illnesses and conditions that are very similar to those experienced by humans.

Even psychological problems like depression, anxiety, ADHD and behavioral problems are just as prevalent in pets as they are in their owners. Also, physical ailments such as diabetes, arthritis, chronic fatigue, digestive disorders, cystitis, kidney and liver disease, skin disorders, obesity, thyroid dysfunction and other problems are becoming more and more common in domesticated animals.

Most of these conditions can be prevented by helping your pets to live a healthier lifestyle through natural pet care. For pets already suffering from existing conditions, a combination of lifestyle changes and holistic pet remedies can work wonders!

Conventional medicine has its place, but it has failed our pets in many ways. Consequently, many veterinarians search for alternatives and try to espouse more holistic methods of keeping our pets healthy. We seek out holistic products for ourselves, why not use the natural pet rememdies for our best friends!