TEETH WHITENING MAXIMUM WHITENING...MINIMUM TIME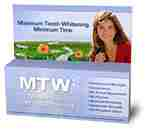 Maximum Teeth Whitening is not your run of the mill teeth whitening system. We know you have choices, that is why we cut through all the marketing noise of "we are the best teeth whitening kit so buy from us" messages you see everywhere.
From Crest White Strips on one end, to over charging dentists on the other end, we set out to clear the air of "hype and hyperbole" and just tell you the facts and let you decide.
WHY DOES MAXIMUM TEETH WHITENING WORK SO MUCH BETTER THAN OTHER TOOTH WHITENERS
1.. Firstly, our formula is a thicker gel ( high viscosity gel ) allowing it to adhere better to your teeth. Other products use less expensive, low quality ingredients and are not thick enough to stay in place and often leak out of the mouth tray. If you have used other tooth whitening products before, you know what we mean.
2.. Maximum Teeth Whitening has a higher percentage of active teeth whitening ingredients than most other products and is ph optimized to maximize the tooth whitening process.
3.. Maximum whitening – Minimum Time . MTW™ significantly reduces the application time from 1-4 hours for competitors to only 15-30 minutes . That means you can apply MTW before jumping into the shower and by the time you are dressed… your teeth are noticeably whiter.
4.. Reduced number of applications. More whitening power means less time, effort and number of applications which makes MTW™ more convenient and less expensive as well. One tooth whitening kit will give you a dramatically whiter smile that your friends will definitely notice!
IS MAXIMUM TEETH WHITENING SAFE?
It's safe, easy, gentle and very effective. Years of clinical research demonstrates that whitening teeth with the ingredients in MTW™ is safe and effective. Maximum Teeth Whitening complies with all U.S. Food & Drug Administration (FDA) regulations.
Want to know more?..... CLICK HERE!
FREE! Click Here to Download The Bad Breath Bible
---